Teenagers discover A-level results
Hundreds of thousands of teenagers in England, Wales and Northern Ireland are discovering their A-level results.
In England, A-levels have been moving away from coursework and returning to students being marked on final exams.
Exams regulator Ofqual is promising standards will be held steady to ensure students do not lose out amid changes.
Admission service Ucas said 30,000 university courses were available in the clearing process.
Students can check online whether they have been accepted by their chosen university, before collecting their individual results from school or college.
Last year, students in England took new, more challenging exams in 13 subjects, with 11 more following this year. The remaining subjects are being refreshed over the next two years.
Ofqual promised grade boundaries could be lowered, once papers were marked, if the new exams were tougher than expected.
A-levels have also been separated from AS-levels in England, with many schools leaving the old system which allowed students to study a wider range of subjects post-GCSE, dropping their weakest after a year.
"It's put schools and colleges under immense pressure," Rachel Warwick, executive head teacher of Didcot Girls and St Birinus boys school, told BBC Radio 4's Today programme.
"It don't think school leaders felt there was a necessity to reform A-levels," she said, adding that she also questioned the speed at which changes were pushed through.
Last year's results showed a slight fall in grades for the 13 reformed subjects and for the first time in 17 years, boys outperformed girls in numbers of A and A* grades, prompting suggestions that this was because of the new style of exams.
Prof Alan Smithers, director of University of Buckingham's Centre for Education and Employment Research, said he expected both trends to continue as changes are phased in across all subjects.
But he said Ofqual's strategy of lowering grade boundaries to compensate for the tougher exams would mean overall results would be similar to 2017's.
"If, anything, they are likely to go down due to the new A-levels, unconditional offers leading to some students taking their foot off the pedal, and the uncoupling of AS no longer allowing students to choose their best subjects halfway through the courses."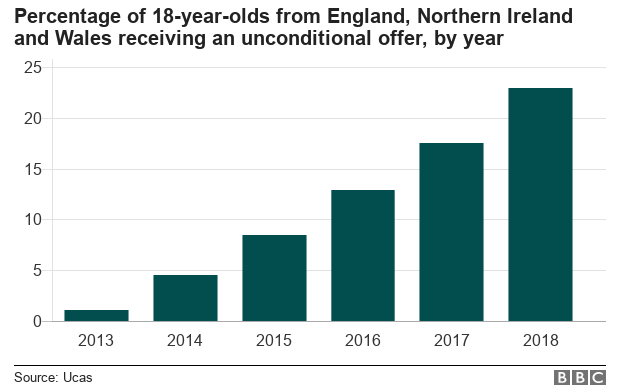 The rise in unconditional offers could mean clearing, the process by which universities fill their unallocated course places, is less busy.
Ucas said that last year about one in eight people accepted to full-time university courses got there through clearing.
A dip in the number of 18-year-olds could also mean less competition.
In the year 2000, when the majority of this year's cohort were born, there were 604,441 births in England and Wales – 74,665 fewer than last year's figure of 679,106.
'No viable alternative'
Meanwhile, according to a survey published by the Sutton Trust social mobility charity, an increasing number of schoolchildren are aware that university is not the only path to success.
The poll, which questioned around 2,300 11 to 16-year-olds in England and Wales, found 75% think it is important to go to university – down from 78% last year and a high of 86% in 2013.
Sir Peter Lampl, founder of the Sutton Trust, said young people faced a dilemma.
"If they go on to university they incur debts of over £50,000 and will be paying back their loans well into middle age. And in a number of cases they end up with degrees that don't get them into graduate jobs.
"On the other hand, degree-level apprenticeships are almost non-existent, with less than 10,000 available each year compared with over 300,000 university places. There is effectively no viable alternative to university."
For students who took Btec qualifications, results were released on Wednesday.
Btecs, which also count towards Ucas points, are specialist work-related qualifications, designed for young people interested in working in a particular sector or industry.
And in Scotland, results for Highers and Advanced Highers were published last week.
This year, there were 147,000 Higher passes, with a pass rate of 76.8% – down slightly from 77% last year.
Reporting by Hannah Richardson, Judith Burns and Katherine Sellgren
BBC News