Scottish ministers under fire as exam results decline again
Scottish ministers have been accused of complacency after the latest school exam results showed a continuing decline in grades.
The Scottish Qualifications Authority (SQA) disclosed on Tuesday that A-to-C pass rates for Highers, the main qualification for university entry, had fallen for the third year running, dropping by 0.2% year on year.
Passes at A to C for Nationals, the recently introduced Scottish qualification for 16-year-olds that replaced Standard grades, had fallen by two percentage points this year, the SQA said.
Opposition parties said the data was deeply worrying and undermined the Scottish government's claims about the effectiveness and strength of the education system.
Opposition MSPs said the fall in teacher numbers, now 3,500 lower than a decade ago, and continuing problems with recruitment needed to be urgently addressed by John Swinney, the education secretary and deputy first minister.
"The real concern is that these falls in attainment are now clear trends over a number of years," said Iain Gray, Scottish Labour's education spokesman.
"It would appear that years of cuts to school budgets and teacher numbers, along with the narrowing of the curriculum and reduced course choice are now having an impact on exam results.
"Until now John Swinney has refused even to acknowledge these problems, preferring to waste time on governance reforms no one wants or supports. He must now face up to these worrying trends, have them urgently investigated and tell us what action he intends to take to improve our schools."
The SQA figures also showed a continuing decline in the number of pupils taking foreign languages such as French, Spanish and German, and social sciences such as geography and history. Sittings for politics and modern studies, however, both rose, increasing by 24% for politics.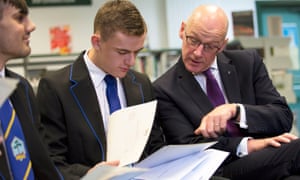 There was some positive news for Scottish ministers, with a slight increase in the number of pupils from the poorest 20% of households reaching university – a key policy aim for Nicola Sturgeon's government.
The number of 18-year-olds from the poorest 20% of households reaching university increased by 100 to 1,270, a 9% increase year on year and up from a total of just 780 in 2009. This increase was lower than in 2017, but follows several years of negligible improvement.
Overall the number of Scottish domiciled students getting university places rose by 4% to 28,970, alongside a 2% fall in the number of EU students winning places.
Swinney said the data was welcome. "We want every young person inScotland to have an equal chance of success no matter their background or circumstance," he said. "These figures show that we are making good progress on widening access."
Swinney said the headline exam pass rates were "stable" and were achieved in spite of a fall in the number of school pupils overall. "It is important to remember that we will always see slight variations in pass rates and the results show that we have a robust, credible assessment system in place," he said.
Guardian